Reza Baluchi claimed he intended to run more than 4,000 miles across the Atlantic to London — and he reportedly engaged in a three-day standoff with the Coast Guard before he finally agreed to exit his vessel.
AFlorida man was just arrested by the U.S. Coast Guard after he attempted to "run to London" in a homemade, hamster wheel-like vessel.
Reza Baluchi, an Iranian marathon runner, was intercepted by the Coast Guard on Aug. 26, 2023 about 70 nautical miles off the coast of Georgia, just as Hurricane Franklin was barreling towards the Eastern U.S.
Baluchi reportedly refused to leave the vessel for three days before officials finally extracted him.
The homemade contraption, which Baluchi has dubbed a "Hydro Pod" or his "bubble," was made out of a metal drum surrounded by inflatable buoys. The "bubble" was propelled through the water by paddles lining the vessel's exterior as Baluchi ran inside it.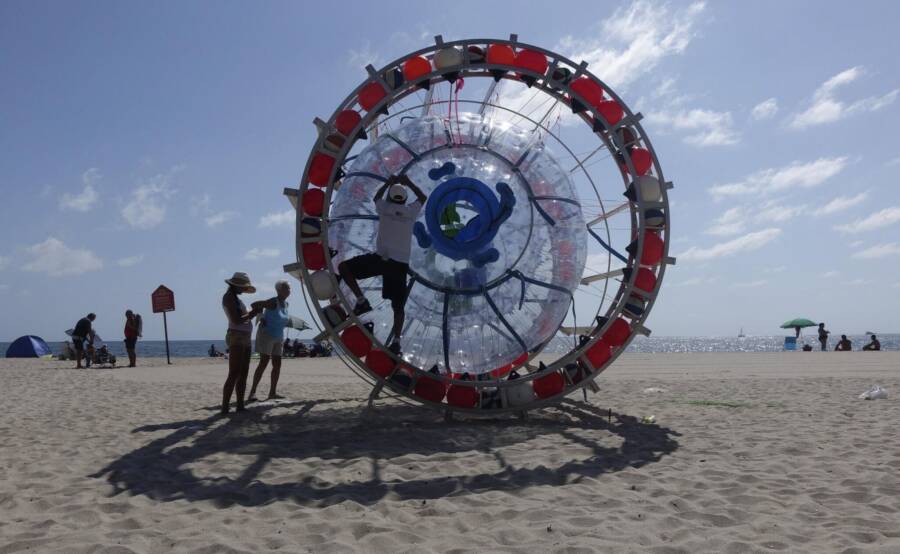 Baluchi is now facing federal charges of obstruction of a boarding and violation of a Captain of the Port order, according to the BBC.
"Based on the condition of the vessel – which was afloat as a result of wiring and buoys – [US Coast Guard] officers determined Baluchi was conducting a manifestly unsafe voyage," the criminal complaint says.
Beyond the dangerous nature of his voyage, officials said Baluchi claimed he had a bomb on board and threatened to harm himself. According to Sky News, Baluchi was armed with two 12-inch knives and told officials he would use them to kill himself if they attempted to remove him from his vessel.
Officials considered the bomb threat to be valid at first, as Baluchi held wires in his hand while making the threat. Coast Guard officers called in bomb disposal experts before they determined the threat to be a hoax.
"USCG officers again ordered Baluchi off the vessel, but he again refused. It was then that Baluchi informed the USCG officers that the bomb was not real," court documents state.
After three days, officials were finally able to remove Baluchi from the vessel and transport him to a Coast Guard base in Miami, where he surrendered and was charged.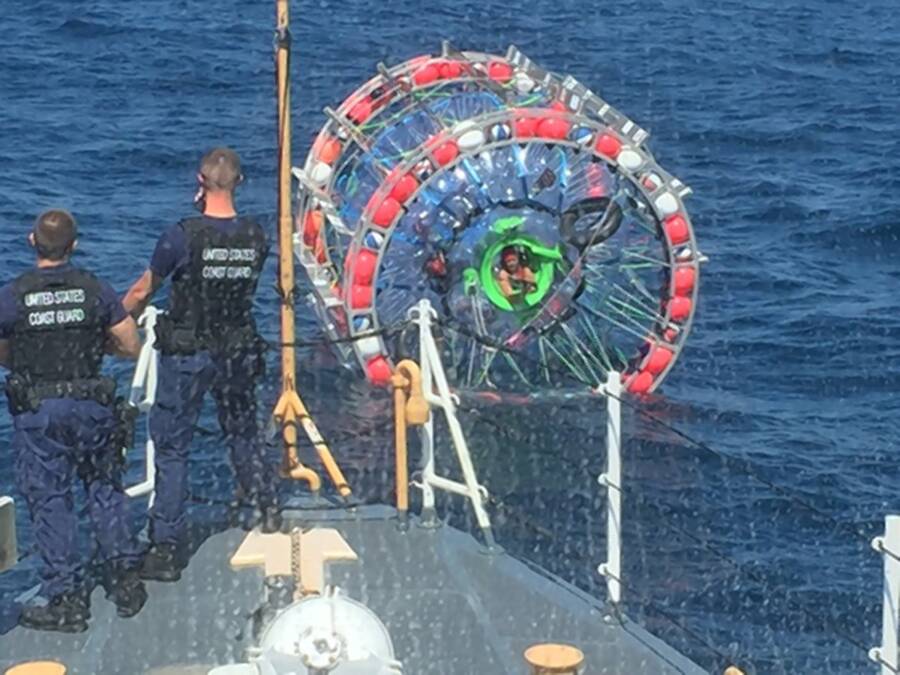 The bizarre incident happened while Hurricane Franklin was racing toward the Eastern Seaboard. The hurricane reached Category 4 at its peak and wreaked havoc on the Greater Antilles and Bermuda, causing two reported fatalities and millions of dollars in damage. It also caused life-threatening surf conditions and rip currents up the coast of the eastern United States, according to the New York Post.
This is also not the first time Baluchi has attempted this kind of stunt. He has been apprehended by the Coast Guard three previous times while crossing the ocean in a "bubble."
Most recently, in 2021, Baluchi attempted to use his contraption to travel over 1,000 miles from the coast of Florida to New York. He ended up 30 miles south of his starting point due to "complications that brought him back to shore," according to the Flagler County Sheriff's Office.
In 2014 and 2016, Baluchi had to be rescued by the Coast Guard off the coast of Florida after similar attempts.
Baluchi has previously claimed he attempted these voyages to raise money for a variety of causes.
"My goal is to not only raise money for homeless people, raise money for the Coast Guard, raise money for the police department, raise money for the fire department," he told FOX 35 in Orlando in 2021.
But Baluchi said despite being stopped every time, he isn't giving up.
"I'll never give up my dream," he said. "They stop me four or five times, but I never give up."